The Romanian American Chamber of Commerce


cordially invites you to attend


Monday, June 5, 2023 | 2:00PM - 4:00PM 733 Third Ave, 7th floor, The Board Room

New York
Networking with a business delegation from IASI Romania
Private discussions between attendees and delegation members to continue on June 7
VISITING DELEGATION
E publishing, events, business education, interested in similar organizations to cooperate.
Mass Media, interested in companies to enter the regional market.
Web design and web development, interested in building relationship.
Transport organization looking for Relationship for EU transport.
IT looking for software development company.
Metallurgy, glass industry, looking for producers of high tech cloths.
Medical, interested in distributors for medical furniture and devices. Looking to visit a hospital.
REGISTRATION:

RSVP by email RACCNYC@gmail.com
ID required for entering the building
English speaking event
For additional information please contact us:

Elias Wexler
President
The Romanian American Chamber of Commerce - New York
Tel: +1 718-401-4006
RACCNYC@gmail.com
The Romanian American Chamber of Commerce


cordially invites you to attend


Thursday, May 11, 2023 | 3:30 PM The Consulate of Romania in New York

200 East 38th Street New York, NY 10016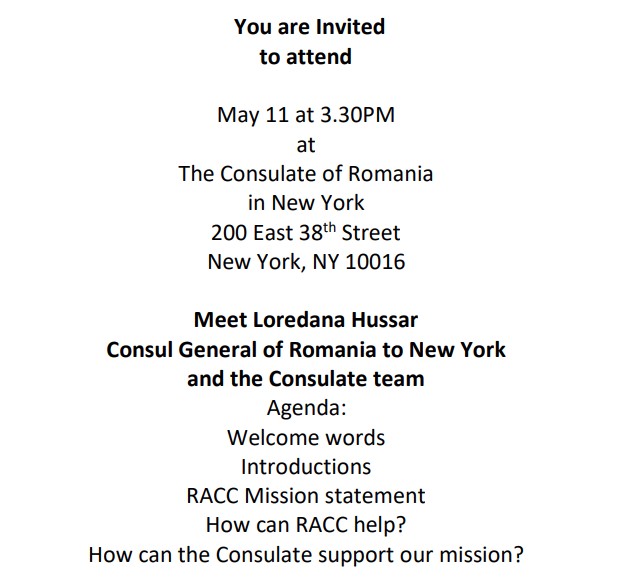 RSVP by email RACCNYC@gmail.com | adrian.v.barbu@gmail.com