The Romanian-American Chamber of Commerce


cordially invites you to attend


Wednesday, June 15, 2021 | 11:00am EST

Zoom Conference Link
Presentation followed by a Q&A session.
Phi LAB SRL's mission is to bring corporations, foundations, universities, the government, start-ups, and investors together to create new economic value. It starts by investing in technology driven start-ups in the following key sectors:
- Data Science / AI: Big data analytics, machine learning, artificial Intelligence
- Fintech: Financial Products or Platforms, including payments and accounting software
- IOT/Hardware: Connected devices and hardware related technology (includes pure software applications of IOT/HW)
- Energy: Renewable energy production and supply technologies
- Health
- Health related products and services
- Developer tools /b2b
- Api based, developer facing businesses
- Education
- Learning and training technologies
- e-Commerce
- e-Commerce platforms, marketplaces, self-created brands dealing with finished goods
In order to achieve its vision Phi LAB SRL is partnering up with 500 Startups, a global start-up accelerator and VC firm anchored in Silicon Valley. It aims to kick start this project in Q4 of 2021 and Phi LAB SRL is currently in the process of raising capital to invest in the first cohort of start-ups. Please join our Zoom Conference for more details.
SPEAKERS:
Stefan Ungureanu
Stefan is an Assoc. Professor at Bucharest University of Economic Studies, PhD in International Capital Markets - Fixed Income Risk Assessment. He currently serves as the CEO of Blue Rock Financial Services SA - Investment, brokerage, asset and wealth management, securities issuance and securitisation, finance structuring.He is also a Co-Founder of DriveKey Corp - IT and automotive services - and a Co-Founder & CFO of Cerebro BCI - Biotechnology, Brain Computing Interface, Healthcare.
Calin Saftoiu
Calin is an experienced Chief Executive Officer working in the information technology and services industry. Skilled in managing start-ups and raising capital, Calin is a strong business development professional with a Post Graduate focused in Psychology from Emerson College, United Kingdom.
REGISTRATION:
Zoom meeting link:
https://herzfeldrubin.zoom.us/j/81692764722?pwd=SlFPSk8xTG14akkzbzM4WEUwNU8rUT09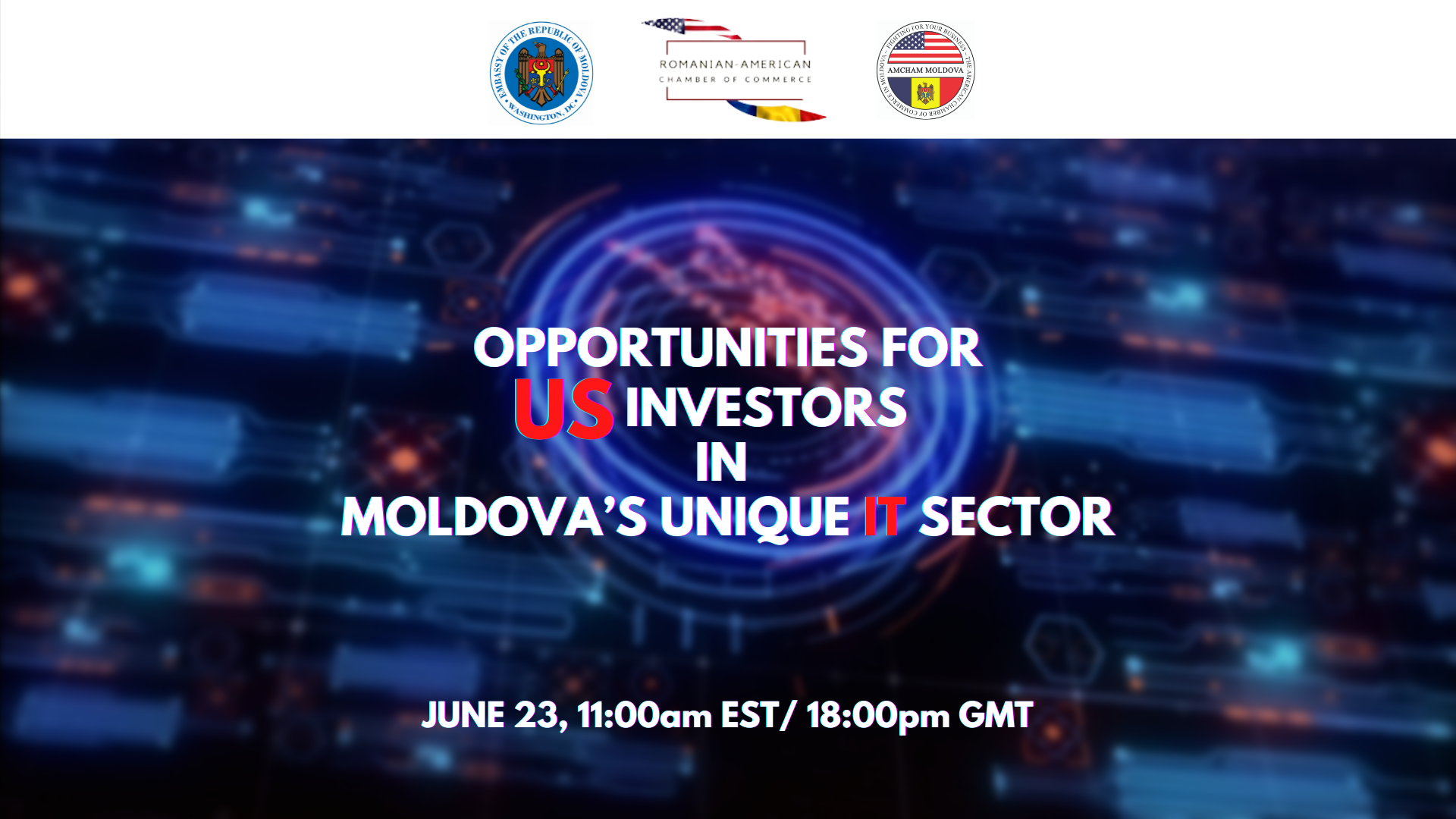 EVENT DETAILS: (online event)
International businesses are constantly searching for new opportunities to optimize their business operations and introduce new technologies into their working systems through investment or product purchasing. The pandemic has forced companies to be even more creative and explore lesser-known countries for outsourcing. Recently, Moldova – a European nation on the border of the EU – has popped onto the radars of many US companies seeking excellence, innovation, and savings.
To discover why Moldova is an attractive destination for investing or outsourcing IT services, we invite you to join this webinar organized by the Embassy of the Republic of Moldova to the USA, the American Chamber of Commerce in Moldova (AmCham Moldova), and the Romanian - American Chamber of Commerce, on opportunities for US investors in Moldova's unique IT sector.
International rankings place the Republic of Moldova high as a state with a developed electronic communications infrastructure, that is favorable for the development of business in the field of information and communication technology. ICT is one of the most dynamic sectors in the Moldovan economy and represents one of the priority areas for development and expansion for the Moldovan Government.
A significant boost to the ICT sector development has been given by the incentives offered by the innovative Moldovan virtual IT park legislation. Moldova IT Park is built on a unique concept in the world, allowing its resident companies to have a virtual presence in the park and enjoy a 7% single tax regime.
Currently, it hosts almost 700 resident companies, of which 150 companies with foreign capital from 34 countries. They have more than 11,500 employees and reached an annual turnover of 250 million euro in 2020.
SPEAKERS:
- H.E. Eugen Caras, Ambassador of the Republic of Moldova to the United States
- George Teodorescu, Regional Director of Mixbook, Vice President, AmCham Moldova
- Mark A. Meyer, President at the Romanian - American Chamber of Commerce, Honorary Consul of the Republic of Moldova in New York
- Natalia Dontu, Administrator at Moldova IT Park
- Elena Zamsa, CEO of DAS Solutions
- Alexandru Gozun, Head of PwC Moldova Office
DATE:
June 23rd, 11:00 a.m.- 12:30 PM EST (GMT-4)
REGISTRATION:
https://amcham-moldova.glueup.com/event/37978/register/
More Details
The Romanian-American Chamber of Commerce


cordially invites you to attend


Sunday, April 18, 2021 at 5.00 P.M Pacific Time Zone (PST), USA

Webinar Registration
The speaker Ms. Virginia Suveiu, Attorney at Law, a transaction and litigation attorney licensed in the State of California. Please see attached Ms. Suveiu's resume.
Please see the below Zoom information:
JOIN ZOOM Meeting:
https://us02web.zoom.us/j/85908037931
Meeting ID: 859 0803 7931
Find your local number: https://us02web.zoom.us/u/k0wepWzKB
All are welcome and invited. Please stay safe during this COVID-19 pandemic.